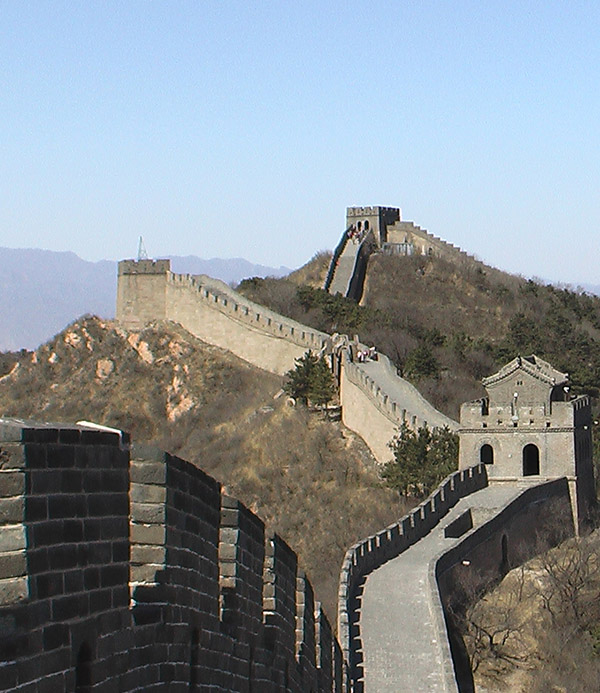 2020 – CHINA THREE GORGES – 12 days/10 nights
WEATHER CONDITIONS:
Know Before You Go – River & Small Ship Cruising
INCLUDED HIGHLIGHTS – LAND PORTION:
Hotel accommodation with daily buffet breakfast throughout: Capital Hotel Beijing (3), Holiday Inn Xian (2), Ocean Hotel, Shanghai (2)
21 meals ( 10 breakfasts, 7 lunches, 4 dinners) – SL/SD: Special Lunch/Special Dinner
3 intra-China economy class domestic air segments
All sightseeing with entrance fees as outlined in the program
Air-conditioned tour coaches in each city
English speaking local guides in each city
YANGTZE CRUISE: Aboard the 5***** deluxe Victoria Cruises
3 night downstream cruises between Yichang and Chongqing in cabin category of your choice- All with private balconies
Three included shore excursions along the route as outlined
All on board lectures, games and entertainment arranged by our crew and Cruise Managers
2020 – CHINA THREE GORGES – 12 days/10 nights
Beijing (3), Xian (2) Cruise (3) Shanghai (2)
Day 1 TUE USA-BEIJING
Overnight flights to China. Meals and services as per airline policy (/)
Day 2 WED ARRIVAL BEIJING (O)
Arrive in China's capital and transfer to your deluxe hotel. Due to various (late) arrivals, meals are on your own.
Day 3 THU BEIJING (B, L)
Morning city tour of Tiananmen Square and the Forbidden City. Lunch at a local restaurant. In the afternoon visit the Summer Palace. The balance of the day, including dinner is on your own.
Day 4 FRI BEIJING (B, L,SD)
This morning you will depart for an excursion to the Great Wall, where lunch will be served after the tour. On your way back, visit a jade carving factory. In the afternoon visit Sacred Way and the Ming Tombs. In the evening enjoy a welcome dinner featuring the famous Peking Duck!
Day 5 SAT BEIJING-XIAN (B,L)
After breakfast, your visit of historic Beijing includes the Lama Temple and the Temple of Heaven. A Beijing noodle lunch, is followed by a flight to Xian. Upon arrival, transfer to your hotel with free time to relax. Dinner on own.
Day 6 SUN XIAN (B,L)
Full day of sightseeing, begins with a visit to the excavation site and Terra Cotta Museum. This is followed by a short stop at the Xian Ceramic and Art Workshop. Your Chinese lunch includes a noodle making demonstration. In the afternoon visit the Big Wild Goose Pagoda and the ancient City Walls. In the evening an optional evening dinner is followed by an entertaining Tang Dynasty performance.
Day 7 MON XIAN- Chongqing-Embarkation (B,D)
There is more to enjoy and experience in Xian with a free morning. Following lunch on own, transfer to the airport for your flight to Chongqing. A Sichuan flavored dinner is followed by a transfer to the pier for embarkation on your deluxe Yangtze River cruise ship. All cabins are outside with private balconies.
Day 8 TUE YANGTZE RIVER CRUISE (B,L,D)
Included shore excursion to Fengdu-Jade Emperor. Captain's Welcome reception.  Included Shore excursion—Fengdu "Jade Emperor."  Optional/Additional Shore excursion—Fengdu "Ghost City."  Tonight, enjoy the Captain's Welcome Reception prior to dinner.  Optional/Additional Shore excursion— FengYan SanGuo "Romance of the Three Kingdoms" Show
Day 9 WED YANGTZE RIVER CRUISE (B,L,D)
Optional/Additional Shore excursion—White Emperor City in the morning.  Afterwards, continue sailing through Qutang Gorge and enjoy Scenic cruising—Wu Gorge.   Included Shore excursion—Goddess Stream Captain's Farewell Banquet.
Day 10 THU YICHANG-SHANGHAI- Disembarkation (B)
Disembark in Maoping Pier, transfer to airport for flight to Shanghai.  Optional /Additional Shore excursion—Board sightseeing-ferry sailing through TGP Ship's elevator
Shore excursion—Three Gorges Dam Site
On arrival in Shanghai transfer to your hotel. The balance of the day is free and dinner is on your own.
Day 11 FRI YICHANG-SHANGHAI- Disembarkation (B,L)
Morning sightseeing in old Shanghai, with escorted tour of the Yu Yuan Gardens. Lunch is included in a local restaurant. In the afternoon enjoy a tour of the Bund and the modern but historic Shanghai Museum. Dinner is on your own.
Day 12 SAT SHANGHAI- Departure (B)
Pack your memories away as you transfer to the airport, and bid adieu to China.

The Victoria Jenna is one of the Yangtze's largest river cruise ships. Inaugurated in 2009 and renovated in 2016, the Victoria Jenna sets the standard for fine luxury river cruising not just in China but throughout the world. Facilities include two restaurants, four elevators, a three-story atrium lobby, two lounges, three bars, a fitness center, two full-sized lecture rooms, library, the Oasis beauty salon, artist corners and gift shop. All cabins have private balconies and world class amenities. The Jenna is equipped with CDMA-wireless internet access, and cabins have HBO and CNN broadcasts. Serviced with a wonderful crew of 118. Maximum capacity 356. On board currency Yuan. *Some sailings may be on board the M/S Sabrina, due to be launched in May 2020.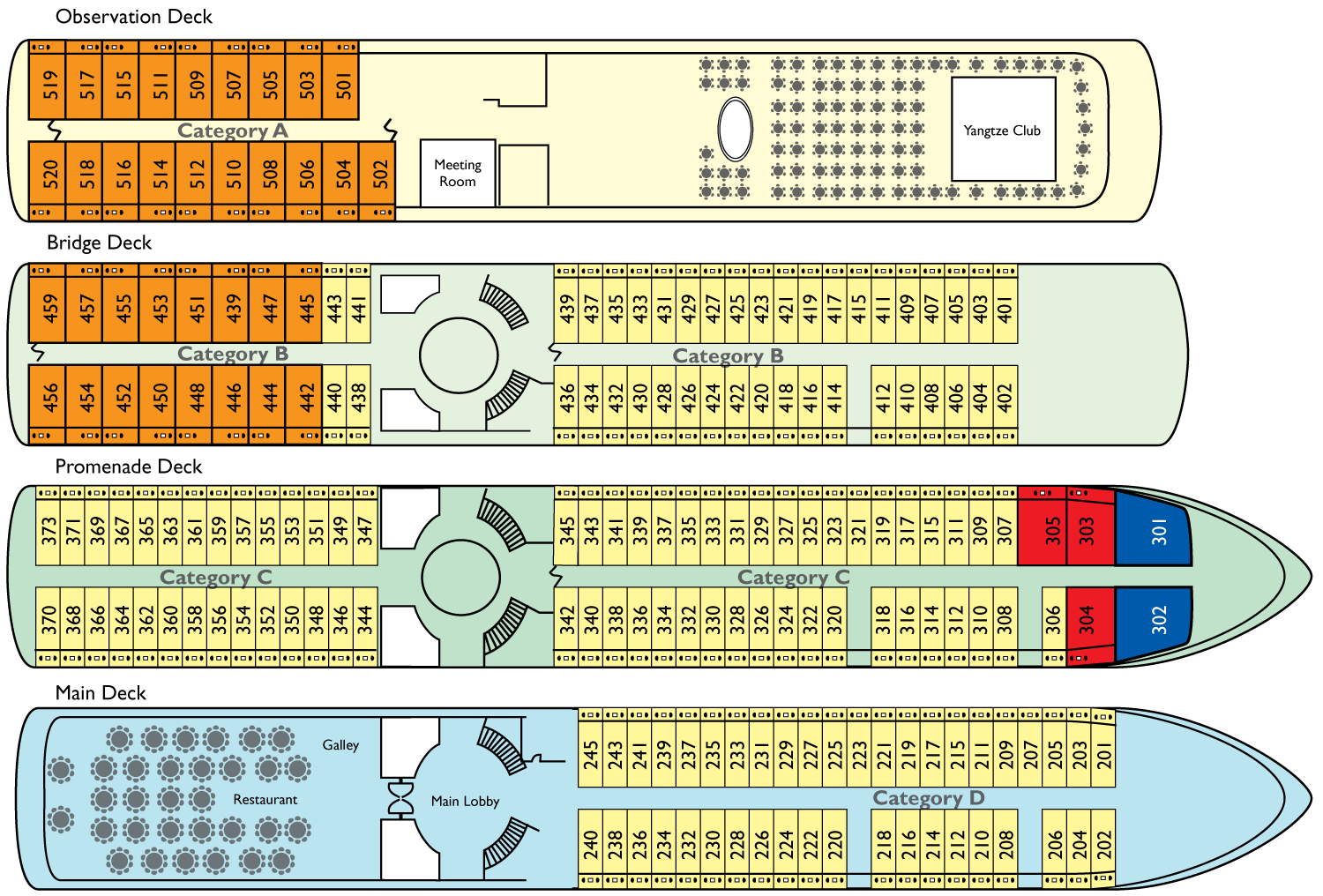 See all of our ship videos on Youtube.