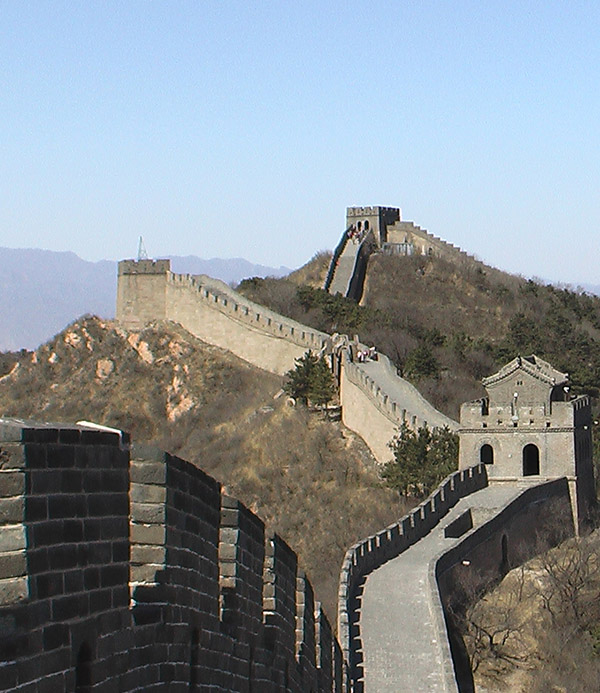 2020 – CHINA THREE GORGES – 12 days/10 nights
INCLUDED HIGHLIGHTS – LAND PORTION:
Hotel accommodation with daily buffet breakfast throughout: Capital Hotel Beijing (3), Holiday Inn Xian (2), Ocean Hotel, Shanghai (2)
21 meals ( 10 breakfasts, 7 lunches, 4 dinners) – SL/SD: Special Lunch/Special Dinner
3 intra-China economy class domestic air segments
All sightseeing with entrance fees as outlined in the program
Air-conditioned tour coaches in each city
English speaking local guides in each city
YANGTZE CRUISE: Aboard the 5***** deluxe Victoria Cruises
3 night downstream cruises between Yichang and Chongqing in cabin category of your choice- All with private balconies
Three included shore excursions along the route as outlined
All on board lectures, games and entertainment arranged by our crew and Cruise Managers
2020 – CHINA THREE GORGES – 12 days/10 nights
Beijing (3), Xian (2) Cruise (3) Shanghai (2)
Day 1 TUE USA-BEIJING
Overnight flights to China. Meals and services as per airline policy (/)
Day 2 WED ARRIVAL BEIJING (O)
Arrive in China's capital and transfer to your deluxe hotel. Due to various (late) arrivals, meals are on your own.
Day 3 THU BEIJING (B, L)
Morning city tour of Tiananmen Square and the Forbidden City. Lunch at a local restaurant. In the afternoon visit the Summer Palace. The balance of the day, including dinner is on your own.
Day 4 FRI BEIJING (B, L,SD)
This morning you will depart for an excursion to the Great Wall, where lunch will be served after the tour. On your way back, visit a jade carving factory. In the afternoon visit Sacred Way and the Ming Tombs. In the evening enjoy a welcome dinner featuring the famous Peking Duck!
Day 5 SAT BEIJING-XIAN (B,L)
After breakfast, your visit of historic Beijing includes the Lama Temple and the Temple of Heaven. A Beijing noodle lunch, is followed by a flight to Xian. Upon arrival, transfer to your hotel with free time to relax. Dinner on own.
Day 6 SUN XIAN (B,L)
Full day of sightseeing, begins with a visit to the excavation site and Terra Cotta Museum. This is followed by a short stop at the Xian Ceramic and Art Workshop. Your Chinese lunch includes a noodle making demonstration. In the afternoon visit the Big Wild Goose Pagoda and the ancient City Walls. In the evening an optional evening dinner is followed by an entertaining Tang Dynasty performance.
Day 7 MON XIAN- Chongqing-Embarkation (B,D)
There is more to enjoy and experience in Xian with a free morning. Following lunch on own, transfer to the airport for your flight to Chongqing. A Sichuan flavored dinner is followed by a transfer to the pier for embarkation on your deluxe Yangtze River cruise ship. All cabins are outside with private balconies.
Day 8 TUE YANGTZE RIVER CRUISE (B,L,D)
Included shore excursion to Fengdu-Jade Emperor. Captain's Welcome reception.  Included Shore excursion—Fengdu "Jade Emperor."  Optional/Additional Shore excursion—Fengdu "Ghost City."  Tonight, enjoy the Captain's Welcome Reception prior to dinner.  Optional/Additional Shore excursion— FengYan SanGuo "Romance of the Three Kingdoms" Show
Day 9 WED YANGTZE RIVER CRUISE (B,L,D)
Optional/Additional Shore excursion—White Emperor City in the morning.  Afterwards, continue sailing through Qutang Gorge and enjoy Scenic cruising—Wu Gorge.   Included Shore excursion—Goddess Stream Captain's Farewell Banquet.
Day 10 THU YICHANG-SHANGHAI- Disembarkation (B)
Disembark in Maoping Pier, transfer to airport for flight to Shanghai.  Optional /Additional Shore excursion—Board sightseeing-ferry sailing through TGP Ship's elevator
Shore excursion—Three Gorges Dam Site
On arrival in Shanghai transfer to your hotel. The balance of the day is free and dinner is on your own.
Day 11 FRI YICHANG-SHANGHAI- Disembarkation (B,L)
Morning sightseeing in old Shanghai, with escorted tour of the Yu Yuan Gardens. Lunch is included in a local restaurant. In the afternoon enjoy a tour of the Bund and the modern but historic Shanghai Museum. Dinner is on your own.
Day 12 SAT SHANGHAI- Departure (B)
Pack your memories away as you transfer to the airport, and bid adieu to China.

The Victoria Jenna is one of the Yangtze's largest river cruise ships. Inaugurated in 2009 and renovated in 2016, the Victoria Jenna sets the standard for fine luxury river cruising not just in China but throughout the world. Facilities include two restaurants, four elevators, a three-story atrium lobby, two lounges, three bars, a fitness center, two full-sized lecture rooms, library, the Oasis beauty salon, artist corners and gift shop. All cabins have private balconies and world class amenities. The Jenna is equipped with CDMA-wireless internet access, and cabins have HBO and CNN broadcasts. Serviced with a wonderful crew of 118. Maximum capacity 356. On board currency Yuan. *Some sailings may be on board the M/S Sabrina, due to be launched in May 2020.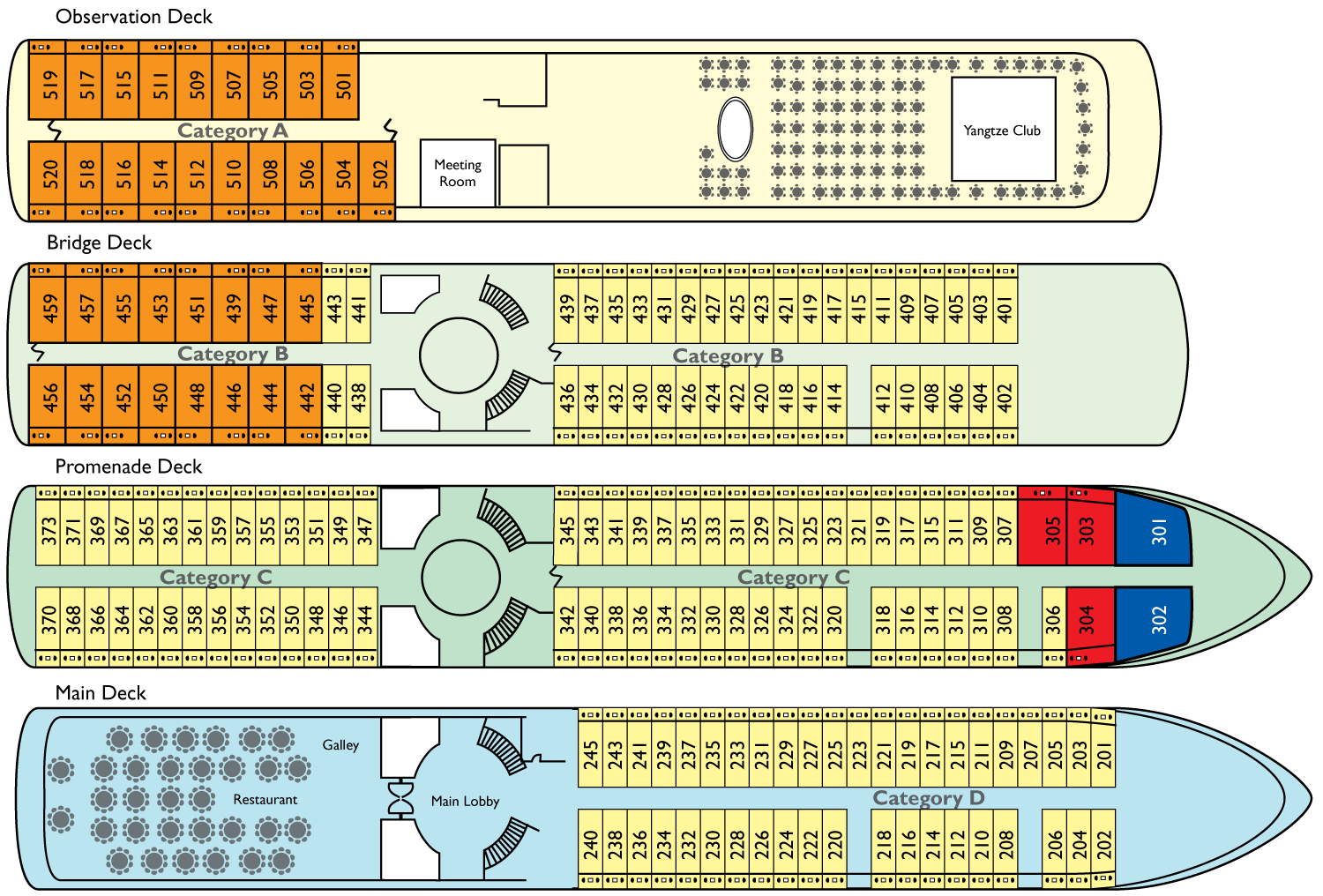 See all of our ship videos on Youtube.
[toggle Title="Will I need a visa to travel to China?"]Yes, U.S. citizens need visas for traveling to China. So before leaving home, please ensure that you have your valid PASSPORT and appropriate VISA. Please make sure your U.S. passport has a validity of
at least 6 months beyond your scheduled travel dates
and two full blank pages. Check for visa updates with the U.S. or the appropriate foreign consulates at least 90 days prior to your departure. If you are a foreign national – please check with your country's consulate, as rules may be different.
***Remember: obtaining a visa and proper travel documents are YOUR responsibility!***[/toggle] [toggle Title="What do I need to obtain a visa?"]We recommend going to www.genvisa.com for a full  list of requirements to obtain visa. Print and fill out Visa Application Form found on the website and send to the address listed.  Visa processing generally takes 4 to 5 weeks. [/toggle] [toggle Title="Are transfers included?"]If you have purchased your air tickets through us, your transfers will be included. However, transfers are still available for those who would like to arrange their own airfare, for a fee. For more information about transfer rates for this program, please call our office at (714) 556-8258 or toll free (800) 795-1633.[/toggle] [toggle Title="Which ship(s) will be used for the 2019 China cruises?"]M/S PRESIDENT #6 & #8! The newest, most modern and advanced cruisers were built and launched in May of 2013 and are absolutely the best ships plying the Yangtze today. Featuring technical advances such as double hulls and built of fireproof material (like ocean-going vessels) these sister ships feature 215 oversized deluxe cabins, 13 junior suites and 2 Presidential suites for a maximum capacity of 460 passengers served by a crew of 210. All cabins have balconies, en suite bathrooms with showers, flat screen TV's and all the amenities you would expect from a 5-star floating hotel. Public areas feature several restaurants, night bars, conference hall, business center, meeting and reading rooms and the largest spa and indoor heated pool on the Yangtze! Mostly non-smoking vessel, except in outside areas designated for smoking.[/toggle] [toggle Title="Will I be able to make phone calls and check emails while aboard the ship? "]Yes. If bringing your US cell phone, please make sure it is "unlocked" by your US provider in order to use it. While most ships on the Yangtze are supplied with telephone/fax facilities, due to terrain, these can only be used while docked in certain (not all) ports. Most ships are equipped with internet which can be used for a fee.[/toggle] [toggle Title="What is the currency used in China?"]The Chinese currency is the RMB (Renminbi) or more commonly called the YUAN. The rate of exchange at the time of printing was $1 = 6.46 RMB. When figuring out marked prices in shops, the easiest is to divide the Chinese rate by 6.[/toggle] [toggle Title="What methods of payment are accepted on board and on shore?"]Credit cards are gaining wider acceptance in China and can be used in most hotels and on board the vessels to pay for your incidentals at the end of the cruise.* However, in shops and especially with souvenir vendors – cash is still king! *Bank fees may apply! Check on arrival![/toggle] [toggle Title="What if I run out of cash? Will I be able to withdraw money at any point along the trip?"]Exchange offices are available at most major hotels, airports and, to a reasonable extent, via the reception desks on the ship(s). There is no limit to how much foreign currency you may bring into China.[/toggle] [toggle Title="I'm super excited for all the tours! But will I have any free time during the program?"]Most definitely! We do our best to ensure that each of our programs offer a healthy balance of cultural immersion through our included tours and free time for our passengers. You will have plenty of free time to shop for souvenirs, explore on your own, or take one of the optional tours (when provided.)[/toggle] [toggle Title="How does tipping work in China? Is it accepted and/or required? "]Tipping today has become commonplace. Salaries are small, so tips do represent a substantial income, especially for the people in the tourism and service industries. Unlike the West, however, tips are NOT obligatory and are subject to your satisfaction – but your generosity will sincerely be appreciated.
We generally recommend that each person set aside $250 to cover all tipping needs for the total duration of the program – but this is merely a suggested amount. You may leave as little or as much as you feel comfortable with. If you endear yourself to any particular crew member and wish to award them directly – please feel free to do so! For more detailed advice about tipping, please take a look at our detailed China Travel Tips.[/toggle] [toggle Title="What if I have special dietary needs or food allergies?"]Vegetarian and other special diets will be attended to within reason and the capability of the restaurant staff. Please be sure to notify us of any dietary needs at the time of booking, and the Maître D' and your table waitress/waiter on the first day of arrival, so that we may do our best to accommodate your needs. If you have a very restrictive diet (no sugar, fat, Jenny Craig, etc.) you may want to bring with you additional non-perishable snacks, crackers, dried fruits, dietary sweeteners, or other items that will compliment the limited variety of special meals.[/toggle] [toggle Title="Anything else I should make sure to pack?"]For a complete list of suggested items to bring, please read our detailed China Travel Tips. But here are a few important items that often get overlooked!
The electricity throughout China is 220V and 50 cycles. Our U.S. electricity is 110v and 60 cycles. YOU WILL NEED TO BRING 2 THINGS, if you plan on using appliances such as hairdryers, coffee heaters and video cameras; (Some hotels may be equipped with both systems; Bathrooms on ships are 110 volts).
1. Universal Transformer: or converter. An apparatus you plug into the wall outlets before plugging your appliances in. The best is a 50/1600 converter which should enable you to use laptops on the 50 cycle and hairdryers on the 1600 cycle. These are available at Radio Shack or any appliance store. They cost about $40-$50 but are worth it for all your future travels. Note: some newer cameras and computers will automatically convert currents between 110 and 240 volts. Check your individual item to see if this is true.
2. Universal Adapter Plugs: Round pins for sockets that are different than at home. Since there are no supplies of converters/ adapters, we recommend you purchase a transformer/ adapter plug set at any electronics or appliance store before you leave.
PLEASE DO NOT FORGET: Medications which are vital to your health. A letter should accompany these from your doctor (signed and dated), certifying that such medications are vital to your health. Dosage should be indicated. Always pack any personal medications in your carry-on luggage, not in your checked baggage. Additionally, those passengers with lighter physical disabilities must report them to us at the time of booking.[/toggle]