Highlights
Itinerary
Pricing and Departures
Cruise Ship
FAQ'S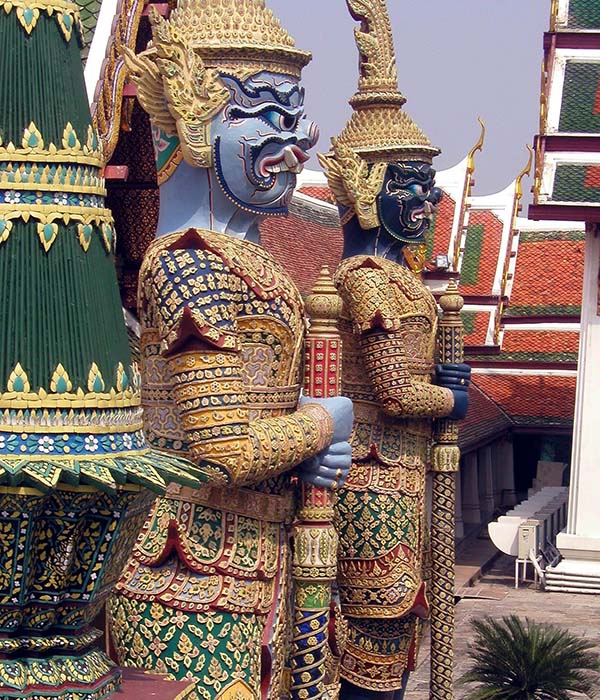 Included Features in the Land Portion:
YANGON
Three nights hotel accommodations at the deluxe Hotel Sedona, Yangon (or similar)
Buffet breakfast daily
Two dinners at the hotel or at local restaurants
Arrival and departure transfers
Full day Yangon city orientation tour with English speaking guide
One way economy class air ticket between Yangon and Pagan
MANDALAY
One night hotel accommodation at the deluxe Mandalay Sedona (or similar)
Buffet breakfast daily
One dinner at the hotel or local restaurant
Transfer from pier to hotel and from hotel to airport
Sightseeing of Mandalay with English speaking guide
One way economy class ticket from Mandalay to Heho
INLE LAKE
Two nights hotel accommodation at the first class Inle Princess resort (or similar)
Buffet breakfast daily
Two dinners at the hotel or local restaurants
Transfer between Heho Airport and hotel
Extensive sightseeing of Inle Lake with English speaking guide
One way economy class ticket from Heho to Yangon
Cruise program: M/V "Orient Pandaw" First class *4+:
Accommodations in all outside cabins on deck of your choice
7 night/8 days cruise between Pagan and Mandalay (upstream)
Three full meals daily while on cruise
All on board lectures, cooking lessons and other activities
Shore excursions as per itinerary
All transporation, guides and entrance fees along the route
Free tea, coffee, local beer, juices, (bottled) water daily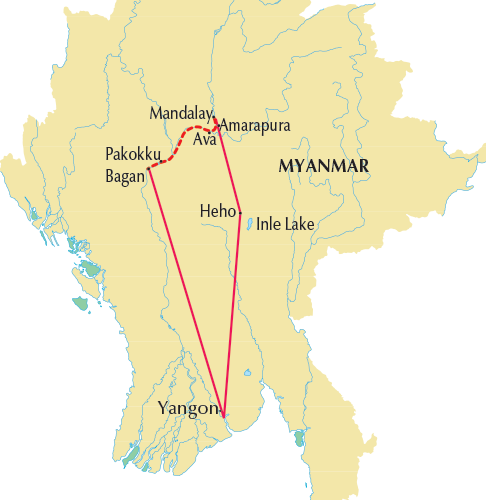 DAY 0 Fly USA to Myanmar
DAY 1 Arrival Yangon
Arrive in Yangon and transfer to your hotel for check in and overnight at Yangon. Due to various arrival times, meals are on your own.
DAY 2 Yangon (B, D)
Your full day tour of Yangon will begin with a visit to the city center and Sule Pagoda, the landmark of downtown Yangon, followed by the National Museum, a unique place to learn more about Myanmar. Then its on to Myanmar's greatest and most beloved attraction – the sacred 325 ft Shwedagon Pagoda believed to contain the relics of 4 previous Buddhas.
Afternoon sightseeing includes Bogyoke Market (formerly called Scott Market), where you can shop varieties of goods ranging from handicrafts to clothing and local food/ snack. Our next visit is Chaukhtatgyi, the colossal reclining Buddha, followed by photographing at Kandawgyi (Royal) Lake to view the sunset overlooking at Shwedagon from the park. Dinner and overnight at your hotel.
DAY 3 Yangon-Pagan (Bagan) – Embarkation (B,L,D)
Breakfast at the hotel followed by a transfer to the domestic airport for your short flight to Bagan. Transfer from the airport to the ship for lunch, followed by exploration of a selection of the 3000 plus Bagan monuments by bicycle or coach. Bagan is one of the richest archeological sites in the world and the highlight of every tour through Myanmar. In between 11th and 13th century, the kings of the Bagan dynasty ruled the country and ordered thousands of pagodas and temples to be built.
DAY 4 BAGAN (B,L,D)
Another full day to explore the wonders of Bagan.
DAY 5 SALAY-PAKHANNGE (B,L,D)
Once a bustling trading port, Salay is now a sleepy village filled with colonial architectural treasures and timeless teak monasteries and home to the best known teak carved monastery in Myanmar.
DAY 6 PAKOKKU (B,L,D)
We visit the local market and town center by the favored mode of transport – the tuk tuk. We moor overnight near the Chindwin confluence at Aung Pan Chaung.
DAY 7 YANDABO (B,L,D)
Morning walk through Yandabo villiage, famous for its production of terracotta pottery from the river bank clay. In the afternoon we will be cruising up north towards Mandalay.
DAY 8 SAGAING-AMARAPURA (B,L,D)
Sail to Sagaing. The true delight of Sagaing lies in its 1000 hermitages and sanctuaries, rich in woodcarving and religious art.
In the afternnon we drive to Amarapura, the former capital of Myanmar where we enjoy a boat ride on Lake Taungthaman followed by watching the sun set behind the world's longest teak bridge- U Bein Bridge. We also see silk weavers at work in their shop.
DAY 9 MINGUN AND MANDALAY (B,L,D)
We cast off early and stop at Mingun to see the largest working bell in the world and the unfinished pagoda that is the largest single mass of brick building in the world. We also visit time permitting, the Mingun Old People's Home originally established with the assistance of the Irrawaddy Flotilla Company in the 1930s.
In the afternoon, sightseeing in central Mandalay with visits to the Palace, surrounding hills, craft workshops and free time to do exploring or shopping on your own. Though Yangon is the modern day capital, Mandalay, or Yadanapura — the 'City of Gems', remains the Golden Land's spiritual capital. To know Mandalay and its pleasant surroundings is to know Myanmar. Situated in the heart of Upper Myanmar, the city is at the hub of river routes from China and India and land routes from the Shan massif and Siam beyond. The city throbs with life and trade. This is a city of markets and monasteries. As well as being the economic epicentre of Upper Myanmar, Mandalay is the religious capital of Myanmar.
DAY 10 MANDALAY -Disembark (B,D)
Disembark from the ship. In Mandalay, additional sightseeing includes Mahamuni Buddha Image – believed to be cast in bronze in front of Buddha himself and nowadays gilded with thick gold leaf, gold leaf hammering, tapestry making, marble and wood carving. Transfer to your hotel for dinner and overnight.
DAY 11 MANDALAY-INLE LAKE (B,D)
After breakfast and check-out, transfer to Mandalay airport to fly to Heho. Upon arrival at Heho, drive to Inle lake which takes about an hour. Inle lake, one of the magical lakes in Myanmar is located 900 meters above sea level, is surrounded by beautiful mountains of the Shan plateau, and is the home of the Inthar tribe. If by chance today coincides with market day, we will visit the regional market which is held on a 5 day rotation basis in different areas of the Lake. We will also visit Phaungdawoo Pagoda – famous for its richly gilded five small Buddha images; Ngaphechaung monastery (also known as jumping cat monastery) built more than one and a half century ago and featuring a number of interesting old Buddha images. Other attractions include: unique leg-rowing style and fishing method of the Inthar, floating gardens used as vegetable plantations, silk and cotton weaving cottages and black smiths. Dinner and overnight at Inle Lake.
DAY 12 INLE LAKE (B,D)
We explore the southern part of the Lake by boat sailing through small twisting and turning creeks to reach Indein village. This small village located on the southwestern bank of the lake is famous for its ruined clusters of pagodas dating back to the 16th century. The tranquil peaceful ambience and the ruins, overgrown with bushes, will bring you centuries back. In the afternoon we will visit Ywama village, and a gold and silver smiths workshop. In the evening, enjoy the sunset while visiting the Inle Lake by boat. Overnight at Inle lake.
DAY 13 INLE LAKE -YANGON (B,D)
Transfer to Heho airport to fly back to Yangon. Upon arrival at Yangon, transfer to your hotel. The balance of the day is free to explore on your own. Dinner and overnight at hotel.
DAY 14 DEPART YANGON (B)
Breakfast at the hotel. Time to pack your memories away as you transfer to the airport for your flights home.

R/V "Orient Pandaw"
Launched in 2009 and refurbished in 2015, this gorgeous colonial style vessel represents a culmination of style and elegance! With only 2 decks and a maximum of 60 passengers, the ship was built with locally sourced teak throughout. Her 30 staterooms (10 on the Main Deck and 20 on the Upper Deck) are all a large 170 sq feet in size with teak and stone enhanced private bathrooms with spa branded amenities and hair dryer, full air conditioning, complimentary kimonos and slippers, electronic mini-safes and plenty of storage space in the closet and underneath the uniquely designed beds. All cabins have sliding entry doors enabling the cabins to be opened to the warm breezes along with lounge chairs on the deck providing wonderful views of the passing vistas!
Her public areas are equally enchanting! From the one seat restaurant serving delicious buffet style breakfasts, lunches and sit down theme dinners along with free local beer, soft drinks, water, tea and coffee, to the warm and relaxing library, to the generous covered sun deck, along with a spa and gym room, the public areas provide plenty of space for socializing or room for private contemplation. The wonderful, service oriented crew of 30 + a Master Chef and English speaking Cruise Managers are sure to fulfill your every expectation! Non-smoking except in designated outside areas.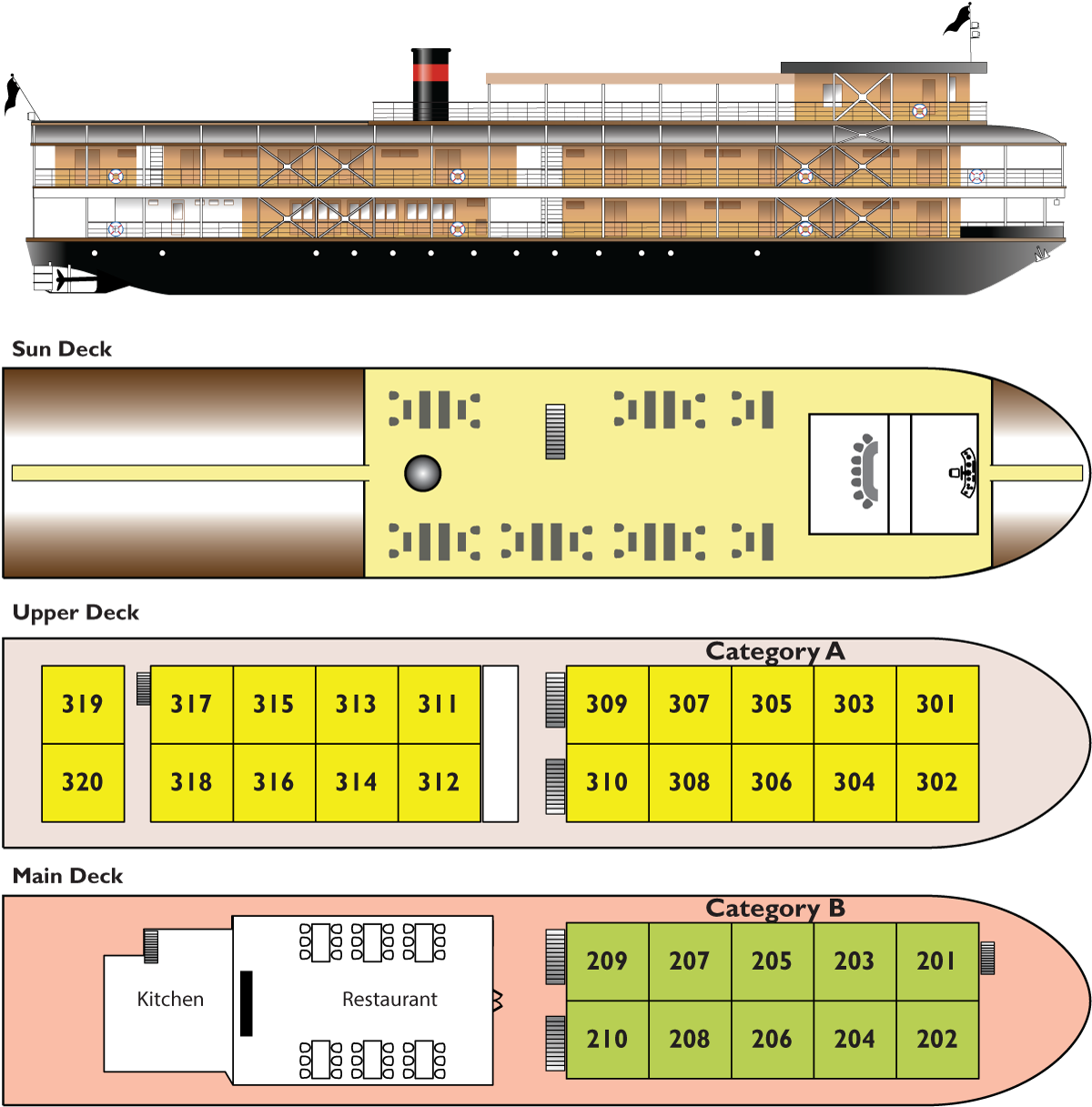 [ngg_images source="galleries" container_ids="21″ display_type="photocrati-nextgen_basic_thumbnails" override_thumbnail_settings="0″ thumbnail_width="240″ thumbnail_height="160″ thumbnail_crop="1″ images_per_page="100″ number_of_columns="0″ ajax_pagination="0″ show_all_in_lightbox="0″ use_imagebrowser_effect="0″ show_slideshow_link="0″ slideshow_link_text="[Show slideshow]" order_by="sortorder" order_direction="ASC" returns="included" maximum_entity_count="500″]
Weather Conditions:
Read full article Know Before You Go – River & Small Ship Cruising to learn more.