Luxurious River Cruises along the Danube!
Be sure not to miss our fabulous Danube river cruises with stops at the region's most beautiful ancient towns and baroque cities! Sailing aboard the M/S Vivienne, refurbished in 2019 and featuring 2 decks with French Balconies, she offers an upscale experience with sumptuous surroundings and impeccable service.
With her low draft she can sail the various rivers of Europe in the utmost comfort and luxury. And with a maximum of only 146 passengers and a young and dedicated crew of 32 plus English speaking Cruise managers and Cruise Directors, she will ensure that you have a cruise experience of a lifetime! Non-Smoking. On board currency (€) euro.
GENERAL INFORMATION
Flag: The Netherlands  Built on 2000  Refurbished in 2020
Length: 110 m   Beam: 11,50 m           Draught: 1,50 cm
Crew: 39                        Cabins: 73                   Passenger capacity: 146
FACILITIES:
Restaurant in Upper deck (rear) One seating for all.
Lounge and Captains club in Upper deck (front)
Reception: open 24 h
Elevator connecting middle and upper deck
Lift to sun deck
SERVICES AND AMENITIES:
Wireless internet access throughout ship (no range in sun deck)
Audio guide system for all shore excursions
24 h coffee/tea station in the lounge
Laundry service for a fee
Souvenir shop
Playing cards and selection of games
Early riser breakfast available daily
Cocktail lounge from noon until midnight
Nightly musical entertainment
We accept VISA/Mastercard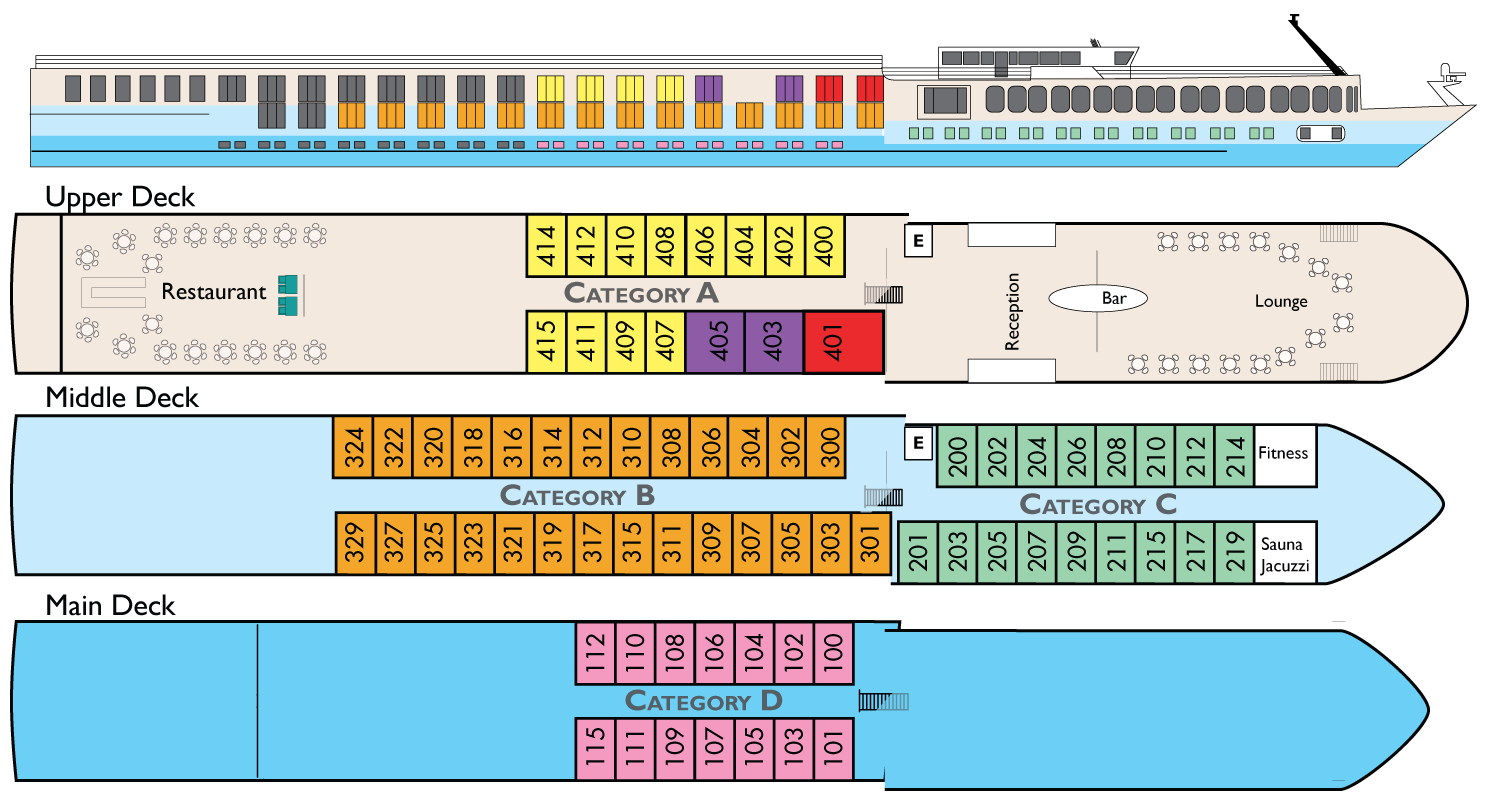 Owners Suite Upper Deck, 30 m2 (323 sq ft) with French Balcony
Floor to ceiling windows with French Balconies
Private bathroom with glass-enclosed shower
Choice of bath amenities from L'Occitane
Bathrobes and slippers
Hotel-style beds, set as double as default
Sitting area with table
Vanity desk and chair, plus a hair dryer
Individually controlled air conditioning and heating system
Flat-screen TV offering several European & International channels
Mini-fridge
Internal telephone
PIN-coded safe
Suites Upper Deck, 22 m2 (237 sq ft) with French Balcony
Floor-to-ceiling windows with French Balcony
Private bathroom with glass-enclosed shower
Choice of bath amenities from L'Occitane
Bathrobes and slippers
Hotel-style beds, set as double as default
Sitting area with table
Vanity desk and chair, plus a hair dryer
Individually controlled air conditioning and heating system
Flat-screen TV offering several European channels
Mini-fridge
Internal telephone
PIN-coded safe
Double cabins Upper Deck: 15 m2 , (161 sq ft) with French Balcony
Floor-to-ceiling windows with French Balcony
Private bathroom with glass-enclosed shower
Choice of bath amenities from L'Occitane
Hotel-style beds, set as double as default
Vanity desk and chair, plus a hair dryer
Individually controlled air conditioning and heating system
Flat-screen TV offering several European & International channels
Internal telephone
PIN-coded safe
Middle Superior Deck Cabin, 15 m2 , (161 sq ft) with French Balcony
Floor-to-ceiling windows with French Balcony
Private bathroom with glass-enclosed shower
Choice of bath amenities from L'Occitane
Hotel-style beds, set as double as default
Vanity desk and chair, plus a hair dryer
Individually controlled air conditioning and heating system
Flat-screen TV offering several European & International channels
Internal telephone
PIN-coded safe
Middle Standard Deck Cabin, 15 m2 with Panorama windows (not able to open)
Panoramic river view windows
Private bathroom with glass-enclosed shower
Choice of bath amenities from L'Occitane
Hotel-style beds, set as double as default
Vanity desk and chair, plus a hair dryer
Individually controlled air conditioning and heating system
Flat-screen TV offering several European channels
Internal telephone
PIN-coded safe
Main Deck Cabin, 15 m2 with 2 smaller Upper windows (not able to open)
Comfortable, with twin smaller river view windows
Private bathroom with glass-enclosed shower
Choice of bath amenities from L'Occitane
Hotel-style beds, set as double as default
Vanity desk and chair, plus a hair dryer
Individually controlled air conditioning and heating system
Flat-screen TV offering several European channels
Internal telephone
PIN-coded safe