Cruise news & Specials
Check back often for great rates and special sailing dates.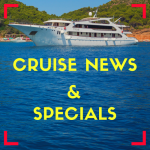 Sign-up for Our Specials!
If you would like to be the first to know about our special offers throughout the year, simply fill out the form below. You can opt-out of our mailing list at any time.
Current Specials:
More Specials coming soon: Sign up below & be the first to know!